You are here

2020-2021 New Principals Academy (Virtual)
Academy Provides:
Focused on professional learning that will provide relevant just-in-time information and interactive activities designed to support new K-12 principals and other school administrators.
Professional support provided by COSA staff, OESPA and OASSA leadership, and experienced administrators throughout Oregon.
Participation includes registration to four of COSA's premier professional learning events: the COSA Summer Conference, the Annual Principals Conference, the Oregon School Law Conference, and the English Learners Alliance Conference.
Participation includes ongoing mentoring throughout the 2020/21 school year by OESPA and OASSA Executive Committee members.
Session Focus:
Session #1: Getting to Know Your Stakeholders: Staff, Students, Parents, and the Community
Session #2: Communicating Your Why: Building Mission, Vision, and Culture on Day One
Session #3: Instructional Leadership: Modeling Teaching and Learning Daily
Session #4: Preparing for the First 100 Days: Programs, Systems, and Practices
Session #5: Special Education and 504: What You Need to Know as a School Leader
Session #6: Leading For Equity: Ensuring the Success of Every Student
Session #7: Staff and Student Investigations, Documentation, and Reporting
Session #8: Evaluation Timelines and Processes: Preparing for Mid-Year Reviews, Contract Renewals, Non-Extensions, and Plans of Assistance
Session #9: Budgeting 101: Developing, Implementing, and Monitoring a School Budget to Support Student Learning
Session #10: The Art and Science of Teaching: Building You School's Professional Capacity through Recruitment, Hiring, and Onboarding
Program Dates and Locations:
Sessions 1-4 - Friday, August 7, 2020 - Zoom (8:00am - 1:00pm)
Sessions 5-6 - Sunday, October 18, 2020 -Zoom (8:00am -12:00pm)
Sessions 7-8 - Wednesday, December 2, 2020 - Oregon School Law Conference (9:00am - 12:00pm) Zoom
Sessions 9-10 - Wednesday, March 10, 2021 - English Learners Alliance Conference (9:00am - 12:00pm) Zoom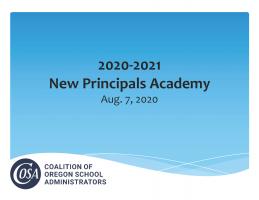 Session video: Click on the image above.