You are here

2020 Oregon School Law Conference (Virtual)
Click here to view the conference program.
Pre-Conference Sessions – December 2, 2020
8:30 to 4:30 - Oregon School Law and Finance
8:00 to 12:00 - Equity I & II for Administrators
9:00 to 12:00 - New Principals Academy
1:00 to 4:00 - Student Rights and Discipline
1:00 to 4:00 - Back to Basics: Employee Discipline & Dismissal
1:00 to 4:00 - Nuts and Bolts: Special Education
1:00 to 4:00 - Legal Issues Impacting Oregon Small Schools (hosted by OSSA)
Oregon School Law and Finance Seminar 2020 - This is a 2-credit course which is held in conjunction with the COSA Oregon School Law Conference meets the TSPC law and finance requirements for out-of-state administrators. It is designed to provide school personnel with up-to-date information on legal and financial issues critical to Oregon schools.  Please note that additional work is required after attending the COSA Conference.  The $480 fee is for the University of Oregon academic credit.  The Law Conference on December 3-4 is a requirement to receive credit for the University of Oregon course.  Participants will need to register for both the University of Oregon class and the Law Conference as a participant for $219.  Click here to register.
Featured Speaker: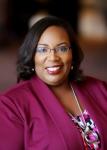 Andratesha Fritzgerald , EdS, Director of Teaching, Learning and Innovation, East Cleveland (OH) City School Districts -

Bio
Thursday Breakout Sessions:
I. - School Law Hot Topics Panel
II. - Intersection of Title IX, Sexual harassment, and related requirements of Oregon school districts
III. - Activism, Racial Justice, and Its Impact on Legal Issues Concerning Employees
IV. - Student Speech:  Where does student speech cross the line to student discipline?
V. - Employment Claims Arising Out of Special Education Programs
VI. - Special Education and COVID 19 Issues
VII. - Employment Issues - 2020's Greatest Hits
VIII. - Records, Records, Records: FERPA, Data Privacy, and Public Records
IX. - How Not to Get Fired
Thursday Small Group Sessions:
A. - The Administrators Role in Trauma Informed Instruction
B. - On Deck with the OSAA
C. - Online Charter Schools in a COVID-19 Environment
D. - SB 155 ODE Sexual Conduct Reporting and Investigation Update
E. - TSPC Hot Topics Q&A
F. - All Students Belong
G. - Section 504, the ADA (Title II) & Students with Disabilities in Public Schools: Lessons Learned
H. - How Can We Keep Connected and Supported in the Months to Come?
Friday Breakout Sessions:
X. - Special Education and Dispute Resolution
XI. - Student Mental Health Issues During COVID-19
XII. - ADA and Leaves Process
XIII. - Special Education Students: Change to Compensatory Education and Recovery Services
XIV. - Staff Evaluations in a Virtual Environment
XV. - Furloughs and Layoffs