You are here

2021 Oregon School Law Conference
The COSA, OSBA, U of O Annual Law Conference is organized as a face-to-face event on Wednesday, December 1st with a hybrid option for Thursday and Friday, December 2-3.  Participants must provide proof of vaccination (with card or on phone), wear a mask and respect social distancing. Please know that our top priority is your health.  Those choosing the virtual option will receive Zoom links the day before the conference.  Virtual links arte offered for Thursday and Friday general sessions and breakout sessions.  Thursday Small Group Discussions will not have the virtual option.
Click here to download the conference program.
Keynote Speaker: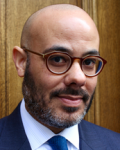 Justin Driver is the Robert R. Slaughter Professor of Law at Yale Law School - Bio
Keynote: Are Public Schools Becoming Constitution-Free Zones? - Race, sex, religion, crime, liberty, patriotism, equality. The Supreme Court's treatment of these incendiary topics has indelibly shaped public education and the constitutional rights of students around the country. Professor Justin Driver of Yale Law School maintains that since the 1970s, the Supreme Court has regularly abdicated responsibility for protecting students' rights, risking transforming public schools into Constitution-free zones. How have courts evaluated free speech, corporal punishment, strip searches, random drug tests, and transgender students accessing restrooms? Join Driver, author of the prize-winning book, "The Schoolhouse Gate: Public Education, the Supreme Court, and the Battle for the American Mind," as he analyzes these pressing legal questions regarding public schools and their place in American society.
Pre-Conference Sessions – December 1, 2021
8:00 to 4:00 - Equity I & II for Administrators
8:30 to 4:30 - Oregon School Law and Finance (class for out of state licensing) - Click here to register.
9:00 to 1:00 - New Principals Academy - Click here to register. (includes networking lunch)
12:00 to 1:00 - New Special Education Directors Academy - Click here to register.
1:00 to 4:00 - Student Rights and Discipline
1:00 to 4:00 - Back to Basics: Employee Discipline & Dismissal
1:00 to 4:00 - Nuts and Bolts: Special Education
1:00 to 4:00 - Legal Issues Impacting Oregon Small Schools (customized session for OSSA)

Main Conference - Thursday, December 2, 2021
8:00 to 9:15 - Keynote
9:45 to 10:45 - Breakout Sessions: Round 1
11:00 to 12:00 - Breakout Sessions: Round 2
1:15 to 2:15 - Breakout Sessions: Round 3
2:35 to 3:45 - Small Group Discussions

Main Conference - Friday, December 3, 2021
8:00 to 9:00 - Keynote
9:20 to 10:30 - Breakout Sessions: Round 4
10:50 to 12:00 - Breakout Sessions: Round 5
Oregon School Law and Finance Seminar 2021 - This is a 2-credit course which is held in conjunction with the COSA Oregon School Law Conference meets the TSPC law and finance requirements for out-of-state administrators. It is designed to provide school personnel with up-to-date information on legal and financial issues critical to Oregon schools.  Please note that additional work is required after attending the COSA Conference.  The $480 fee is for the University of Oregon academic credit.  The Law Conference on December 2-3 is a requirement to receive credit for the University of Oregon course.  Participants will need to register for both the University of Oregon class and the Law Conference as a participant for $219.  Registration available here.
Breakout Sessions:
Hot Topics Panel
No Rest for the Weary: Best Practices for Mid-Term Bargaining
Special Education and COVID-19 Issues
Collective Bargaining and Other COVID Related Personnel Issues
Special Education and Recovery Services
Mask & Vaccine Mandates from the Labor & Employment Perspective
Beyond COVID: Religious Accommodation in the Workplace
Disability Accommodations and Leave Laws in the Time of COVID
Helping Your Board Avoid Ethical and Elections Violations
Superintendent Contract Clauses and Their Impact on Continuation of Employment
Who's the boss? Hint: Mostly you. The intersection of parental and school rights
Managing Employees in Times of Protests and Tweets
Handling Contentious Board Meetings
Staff Evaluation - Post-COVID
Student Social Media and Off-Campus Speech
Small Group Discussions:
Title II Issues in a COVID Environment
Elevating the Educator Workforce Through Diversity & Retention: Updates from TSPC
Cybersecurity
Tips on Handling Grievances and Avoiding Unfair Labor Practice Complaints
Critical Race Theory:  How to Stay Steady in the Storm
Documentation:  How to do it, how to keep it, who gets to see it
OSAA Updates
Employment Investigations 101
Title IX Issues in a COVID Environment
Licensure and Degree Information Session
 
Exhibitors:

If you are registering someone other than yourself or need to register a group, please contact Sera Lockwood, sera@cosa.k12.or.us or call the COSA office at 503-581-3141 and we will process their registrations.  Breakfast and Lunch are provided on December 2nd.  Breakfast and Grab and go....are provided on December 3rd.  Not yet a COSA member? Join now and start taking advantage of exclusive benefits that help you to enhance and ensure your success as an educational leader.  If you have any registration questions or cancellations please e-mail sera@cosa.k12.or.us.